The fact that great looking flooring can be achieved at a low cost has enticed people to have their flooring polished.
Polished concrete floors can be an amazing impact on a home / business. But how much does the luxury look cost to acquire? As a rough guide, polished concrete flooring costs anywhere from $50 to $100 or more per square metre. The cost will depend on the degree of polishing required. Something that is less polished will require less rounds of grinding and thus take less time. The more polishing time that is involved, the greater the cost. Overall cost is also dependant on the size of the area, with larger areas usually costing less per square metre.
Prices start from $45.00 / m2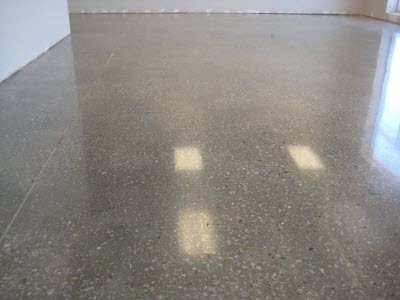 Some things which impact the cost of polished concrete:
Size of the Floor – Typically, the larger the floor area, the lower the cost per square metre for installation due to the economies of scale.
Material Requirements – Using multiple colors of stain or dye on your floor or a specialty epoxy or metallic coating will not only increase your material costs, but also the labor costs for installation.
Design Complexity – The more complex your project, the greater the costs for both materials and labour.
Current Condition of the Floor – Existing concrete floors that require a lot of patching or surface preparation will boost your total installation cost because these flaws will need to be repaired before the final decorative finish can be applied.
Moisture-Vapor Transmission – Some floors have a high level of moisture-vapor transmission that will need to be remedied before most decorative coatings, overlays or sealers can be applied.